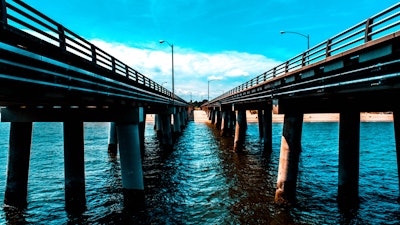 Searchers Friday recovered the body of the driver whose truck plunged off the Chesapeake Bay Bridge-Tunnel Thursday.
Divers found the body of Christopher A. Scott, 36, of Henrico County, Virginia inside the cab of the truck he was driving northbound on the bridge at about 1:50 p.m. when it went over the side of the bridge and into the water below. Scott's body was discovered Friday afternoon inside the truck he was driving for Keep It Moving 22, LLC, a moving and storage company based in Mechanicsville, Maryland, according to the CBBT authority.
Officials say more than a dozen search and rescue teams were involved in the recovery.
The truck and trailer were also recovered Friday afternoon by Corifton Diving.
There had been reports that another person dove from the bridge to rescue the driver. Those reports were found to be untrue.