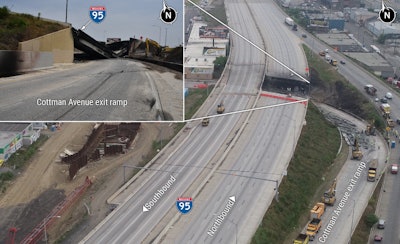 NTSB
The driver of the gasoline tanker truck that crashed and caught fire under Interstate 95 in northeast Philadelphia earlier this month lost control of his tractor-trailer while exiting the highway.
That's the conclusion of the National Transportation Safety Board Thursday, which released the preliminary findings in its review of the June 11 crash and fire that led to the collapse and demolition of a section of I-95.
Nathan Moody, a 53-year-old New Jersey resident, died in the crash.
The NTSB report, which the agency said is "preliminary and subject to change," said:
On Sunday, June 11, 2023, about 6:17 a.m. Eastern daylight time, a 2017 International truck-tractor in combination with a 2004 Heil Specification Package 406 tank-trailer (combination vehicle), operated by a 53-year-old driver, was exiting Interstate 95 (I-95) northbound on the Cottman Avenue off-ramp in Philadelphia, Pennsylvania. At this location, I-95 was an eight-lane divided highway with four lanes each in the northbound and southbound directions.

The combination vehicle, operated by an affiliate carrier leased to Penn Tank Lines, was transporting about 8,500 gallons of gasoline from Wilmington, Delaware, to a gas station located on Oxford Avenue in Philadelphia. The posted speed limit on I-95 in the vicinity of the crash was 55 mph, and the Cottman Avenue off-ramp was posted with a 25-mph speed limit and truck rollover warning sign.

The truck driver was unable to maintain control of the combination vehicle on the off-ramp. The truck rolled over and subsequently caught fire under the northbound lanes of the I-95 overpass.

As a result of the rollover and subsequent fire, the driver was fatally injured. The fire caused the northbound lanes of I-95 to collapse onto the Cottman Avenue off-ramp. The southbound lanes of I-95 were significantly damaged by the fire.

​Parties to the National Transportation Safety Board (NTSB) investigation include:

​Federal Motor Carrier Safety Administration
Pipeline and Hazardous Materials Safety Administration
Pennsylvania State Police
Pennsylvania Department of Transportation
City of Philadelphia, Pennsylvania

All aspects of the crash remain under investigation while the NTSB determines the probable cause, with the intent of issuing safety recommendations to prevent similar events.
I-95 was closed after the crash but was rapidly repaired and reopened in just 12 days. The northbound lanes were destroyed by the fire, and the southbound lanes were structurally compromised and had to be demolished. Crews filled in the gap under the interstate and Cottman Avenue with recycled glass nuggets and then paved three temporary lanes in each direction.
A new overpass will be constructed.