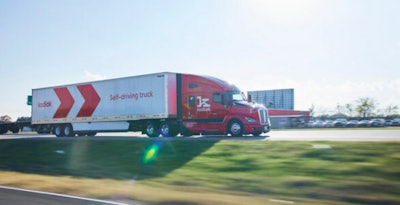 Kodiak Robotics
Loadsmith, which describes itself as the "first freight transportation company built specifically for self-driving trucks" ordered 800 trucks equipped with Kodiak Robotics' technology. They will be deployed on the Loadsmith Freight Network.
The trucks will be delivered starting in the second half of 2025, according to a statement from the two companies.
Loadsmith's fleet of trucks equipped with the Kodiak Driver will complete the long-haul portions of Loadsmith's deliveries, while human-driven trucks, booked on Loadsmith's platform, will do local pickups and deliveries.
Founded in 2019, Loadsmith is a third-party logistics platform headquartered in Denver, with additional locations in Chattanooga and Phoenix.
"Loadsmith's partnership with Kodiak is founded on the belief that freight transportation is preparing to undergo a profound technological transformation, with autonomous middle-mile trucking leading the way," said Brett Suma, founder & CEO of Loadsmith.
Drivewyze adds safety alerts
Drivewyze, which provides safety and productivity solutions for fleets, drivers, and transportation agencies, has announced a major update to its mobile app. It now includes free in-cab safety notifications that alert drivers as they approach hazards along their routes.
The updated mobile app is available to drivers and owner-operators through the app store for Android and is coming soon for iOS. The safety notifications are being offered as an unlimited free service – no subscription or trial is required. It runs on the same app used by drivers to access Drivewyze PreClear, the nation's largest weigh station bypass service.
The free safety notifications provide alerts for drivers before dangerous curves, low bridges, steep mountain grades, as well as sudden slowdowns and upcoming work zones in select states. Visual messages, such as "high rollover," and "sudden slowdown ahead," are displayed in conjunction with an audible chime. These notifications are also available to subscribers of Drivewyze PreClear weigh station bypass and for those using Drivewyze Safety+.
ICYMI
Driver pay was one of the line items that drove up trucking costs in 2022
New Love's Travel Stop in Parachute, Colo. includes 50 truck parking spots
Philly sports teams donate to fund for tanker driver's 8-year-old daughter