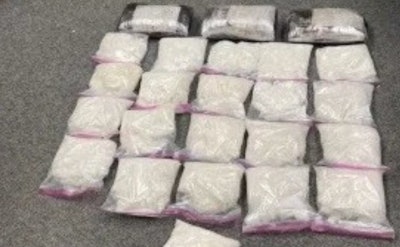 California Highway Patrol
California Highway Patrol officers earlier this week arrested a truck driver after a drug-sniffing dog identified 95 pounds of suspected methamphetamine in a tractor-trailer.
The driver was detained after being stopped on northbound Interstate 5 at about 12:15 a.m. Wednesday, June 28.
During the routine traffic stop, the CHP officer noticed what police called "several indicators of criminal activity." The officer called for a drug-sniffing dog, which gave a positive indication of the presence of drugs in the trailer.
Four suitcases containing the drugs were found in the trailer.
CHP said Officials the driver was booked into Kern County Jail on suspicion of possession of methamphetamine for sale and transportation of the drug across noncontiguous counties.