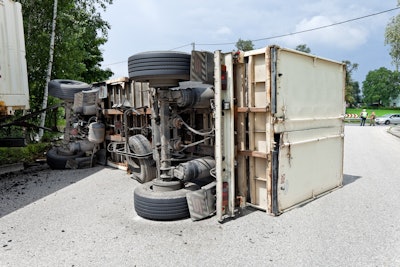 The number of highway deaths decreased in the first three months of this year, marking the fourth straight quarterly decrease.
The National Highway Traffic Safety Administration (NHTSA) recently released its first projections for traffic fatalities in 2023, estimating that 9,330 people died in traffic crashes in the first three months of the year. This represents a decrease of about 3.3% as compared to 9,645 estimated fatalities during the same time in 2022.
The first quarter of 2023 represents the fourth straight quarterly decline in fatalities after seven consecutive quarters of year-to-year increases in fatalities, beginning with the third quarter of 2020.
"After spiking during the pandemic, traffic deaths have been on a slow but consistent decline for the past year," said U.S. Transportation Secretary Pete Buttigieg. "This is an encouraging sign as we work to reverse the rise in roadway deaths, but there is much more work ahead to reinforce this downward trend and make it permanent."
The projected decrease occurred alongside a 2.6% increase in vehicle miles traveled. The estimated fatality rate for the first three months of 2023 decreased to 1.24 fatalities per 100 million vehicle miles traveled, down from the projected rate of 1.32 during the same time in 2022.
NHTSA estimates that for the first three months of 2023, fatalities decreased in 32 states, while 18 states and Puerto Rico have projected increases in fatalities as compared to the same period in 2022. The District of Columbia remained unchanged.
Southeastern Freight Lines celebrates 20 years in Texas
Southeastern Freight Lines, a provider of regional less-than-truckload services, is celebrating 20 years of full-state service coverage in Texas.
In 2003, the company had 11 service centers and 374 dock doors in Texas. Today, the company operates 20 service centers and 1,432 dock doors – nearly doubling its real estate footprint. This infrastructure and commitment to providing excellent service have allowed the company to grow over 500% in the last 20 years, according to a statement from the carrier.
"SEFL is proud to be a part of the Texas community and is committed to providing exceptional service in the state and beyond," said Brian Schulz, vice president of service center operations. "Our success in Texas is a testament to the dedication of our 1,700 associates across the state who have worked hard to build our reputation with customers by living out our core values. As growth is top of mind, there are already plans underway to build on our legacy of excellence and continue to expand our infrastructure with more service centers."
To commemorate its 20 years of service in Texas, SEFL is honoring 10 of its service centers across the state celebrating milestones this year. These facilities have played a critical role in the company's success and helped increase its statewide market share.
They include:
20 years – Corpus Christi, Laredo, McAllen, El Paso, Odessa, Abilene, and Amarillo
15 years – Waco
10 years – South Houston and Monroe  
In the last two years, SEFL has purchased 177 acres and opened a new 50-door Corpus Christi facility as well as a new Amarillo service center. Additionally, the Abilene and Waco service centers will undergo dock expansions this year.
ICYMI
Expect to share the road with record number of Fourth of July travelers
Philly sports teams donate to fund for tanker driver's 8-year-old daughter
Driver pay was one of the line items that drove up trucking costs in 2022