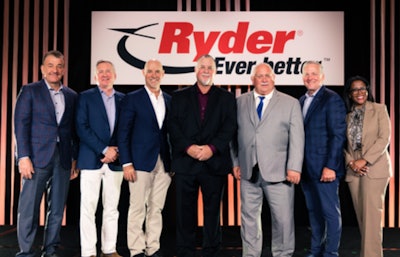 Ryder
-Ryder System, Inc. recently announced the winners of its "Driver of the Year" awards, which honor the top professional truck driver in each of its three business units.
With more than 96 years of combined experience and nearly 9.6 million miles driven between them, the honorees include:
Lance Simmons is based out of Pensacola, Florida
Greg Cassell is based out of Georgetown, Kentucky
John "Keith" Kevil is based out of Grand Prairie, Texas
They take their places in the "Ryder Driver Hall of Fame," alongside a group of just 128 others over 51 years.
This year, just more than 400 of Ryder's 11,000 professional drivers received nominations for the honor. Nominees undergo an evaluation process by Ryder executives, safety experts, and other professional drivers. The top three standouts consistently show an outstanding dedication to safety, performance, reliability, and community engagement.
Lance Simmons won for Ryder's Dedicated Transportation Solutions, for which drivers have the responsibility of operating specialized equipment, supervising unique product handling, navigating complex routes, and meeting demanding customer-service level requirements. During his 32-year career, including 16 years at Ryder, Simmons has logged 3 million safe miles, with 1.5 million of those at Ryder where he drives for a public utility company. Simmons is also a Ryder Certified Driver Trainer.
Greg Cassell won for Ryder's Supply Chain Solutions. Cassell supports the automotive, aerospace, and industrial vertical, which means he's responsible for delivering products for highly optimized, just-in-time supply delivery systems that feed the assembly lines for some of the world's largest manufacturers. In Cassell's line of work, timeliness is paramount to keeping manufacturing lines moving. Logging an impressive 3.3 million miles in his 40-year career, with 1.9 million of those miles at Ryder, Cassell has had zero safety incidents during his 23 years at Ryder. He is a yard-management driver, which involves completing repeated short hauls in a busy yard and backing trailers into tight spaces.
John "Keith" Kevil won Ryder's Fleet Management Solutions' "Customer Driver of the Year" award. With more than 135,000 leased vehicles on the road, operated by professional drivers employed directly by Ryder's customers, the "Customer Driver of the Year" award recognizes those doing the most to keep roads safe while behind the wheel of a Ryder truck. Kevil has driven for Ryder's customer Domino's for 17 of his 24 years driving professionally, logging nearly 2.5 million miles for the customer and 3.3 million in his career. Kevil is a Certified Driver Trainer and a member of numerous committees for driver safety and regulations.
Truck that went off bridge had tire blowout
A report by the Virginia Department of Motor Vehicles says the tractor-trailer that went off the Chesapeake Bay Bridge-Tunnel late last month hit a curb and had a tire blow out before the crash.
The driver of the tractor-trailer Christopher Andre-Allen Scott died in the crash. WAVY-TV reports the truck, owned by Keep It Moving 22 LLC, was northbound on the CBBT around 1:49 p.m. June 22 when one of the vehicle's driver's side tires struck the curb 51 feet south of the one-mile post, causing the tire to blow out.
At that point, "the front driver's side tire went up onto the curb and the truck crashed through the guard rail, landing in the Chesapeake Bay."
The report also says a second vehicle traveling southbound on the CBBT was struck by a piece of debris, causing damage to the vehicle and injuring a front seat passenger.
The report says Scott was driving at the posted speed limit of 55 mph at the time of the crash
ICYMI
Driver Poll: How's support, communication from dispatch/upper management?
Knight-Swift closes on $808 million purchase of U.S. Xpress
Industry groups object to truck and engine makers deal with CARB