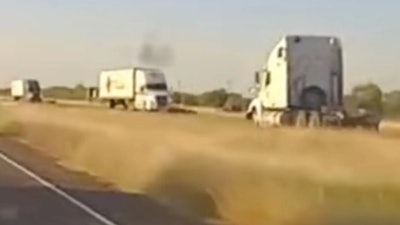 Texas Department of Public Safety
A Florida trucker was arrested recently on numerous counts after leading Texas police on a chase that included him driving the wrong way on an interstate.
Police dashcam footage showed the driver, Eduardo Aradas, during the high-speed pursuit along Interstate 35 in La Salle County south of San Antonio last week. According to the Texas Department of Public Safety, the chase began after Arads refused to stop for a traffic violation.
The Texas DPS later said Aradas drove on the wrong side of I-35 for 35 miles, at times reaching speeds of 85 mph.
After eventually getting back onto the correct side of the road, the driver abruptly turned off down a dirt road where he stopped and tried to evade police on foot. At the same time, several people -- since identified as illegal immigrants -- exited the truck but were captured by police.
Aradas was charged with reckless driving, evading arrest, and smuggling of persons, according to the TDPS.
Driver Appreciation Week merch now available
In advance of this year's National Truck Driver Appreciation Week, the American Trucking Associations announced today the opening of the official NTDAW Store.
National Truck Driver Appreciation Week, this year celebrated Sept. 10-16, is an annual event that formally recognizes the efforts of the nation's 3.5 million truck drivers. State trucking associations, industry suppliers, law enforcement and motor carriers are expected to host appreciation events for drivers.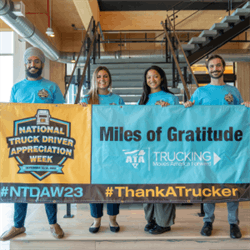 "National Truck Driver Appreciation Week is a chance to publicly express how much we value these hardworking men and women who keep our economy on the move," said Sue Hensley, ATA's Executive Vice President of Communications and Public Affairs. "This year's theme, 'Miles of Gratitude,' underscores the need for our appreciation to match the enormous contributions truck drivers make. NTDAW is a reminder of the respect and recognition that we owe these essential workers year-round."
The NTDAW Store features an array of products carrying the new 2023 National Truck Driver Appreciation Week logo designed with professional truck drivers in mind. Items for sale include t-shirts, baseball caps, banners, and more.
The Allied Committee for the Trucking Industry, ACT1, is the premier sponsor of this year's NTDAW.
Trucking companies on best to work for list
Several trucking and related companies are on the first "Best Companies To Work For" list compiled by U.S. News and World Report.
On the list are:
FedEx
UPS
Old Dominion Freight Line
Carrier
Cummins
Paccar
U.S. News and World Report said it based its selections on employee perceptions of:
Quality of pay and benefits
Work/life balance and flexibility
Job and company stability
Physical and psychological comfort
Belongingness and esteem
Career opportunities and professional development
ICYMI
Reminder: Operation Safe Driver enforcement campaign begins Sunday
Over $23.4 million in federal funds to pay for 2 new truck parking facilities
Driver Poll: How's support, communication from dispatch/upper management?
Federal agencies propose mandating automatic emergency braking