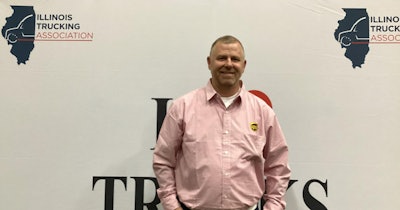 Illinois Trucking Association
A UPS driver won the grand champion title at the 2023 Illinois Truck Driving Championship presented by ILoca Services, Inc. and held recently at the Tinley Park Convention Center.
In addition to winning the competition's top award, Ceth Christensen also won the step van division. His son Connor Christensen, also of UPS, was named the competition's rookie of the year.
The winners of the various classes included:
Step Van - Ceth Christensen (UPS)
Straight Truck - Jim Fisher (UPS)
3-Axle - Rich Fundell (FedEx Freight)
4-Axle - Tim Banasiak (UPS)
5-Axle - Ronald Wilkinson (J.B. Hunt)
Sleeper - Ronald Moore (UPS)
Tanker - Michael Steffy* (FedEx Freight)
Flatbed - Edward Mikan (UPS)
Twins - Douglas Hurley (FedEx Freight)
The team award went to UPS.
Bill Raff of UPS was the winner of the pre-trip inspection competition.
First-place winners will compete in the National Truck Driving Championships in Columbus, Ohio, Aug. 16-19.