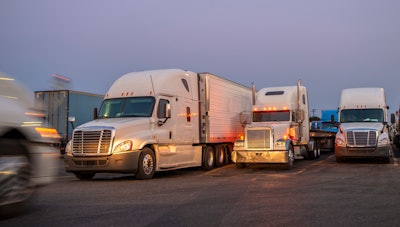 Truck parking will improve in two states thanks to federal funding for two projects.
Federal grants were awarded recently for the projects that will create a total of 170 new truck parking places in Texas and Louisiana.
In Texas, a new truck parking plaza will be constructed at the intersection of state highways 130 and 180. The project includes 100 long-term truck parking spaces and 20 short-term spots. It will have restrooms, showers, and other amenities, and be monitored 24 hours a day.
The cost of the project is more than $22.9 million.
The Louisiana project will be located near the inland port of Columbia in the northern part of the state. it will have 50 truck parking spots, as well as 100 spaces for cars.
In Louisiana, a new truck parking facility will be constructed near at inland port of Columbia where SH 165 intersects with the Ouachita River.
This parking facility will cost more than $10.5 million to construct.