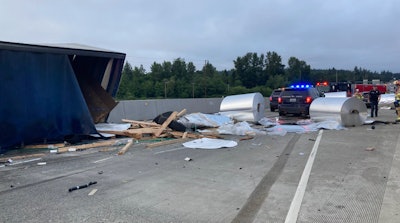 Lakewood Police Department
A truck driver died Thursday when his tractor-trailer was struck by an SUV driven by armed robbery suspects being chased by police in Washington.
Shortly after midnight Thursday, five masked suspects held up a 7-Eleven in Tacoma.
Then at about 5:30 a.m. police in Lakewood spotted two of the robbery suspects in a KIA SUV. The suspects fled at a high rate of speed when officers tried to stop their SUV. Moments later, the SUV struck a tractor-trailer on the Berkely Avenue overpass above Interstate 5, causing the tractor to spin around, ejecting the driver onto the interstate below.
The incident occurred near Joint Base Lewis-McChord, a military installation.
The trucker was taken to a hospital where was declared dead, according to media reports of the incident.
The two robbery suspects, both juveniles, were taken into custody.
The police continue their investigation.