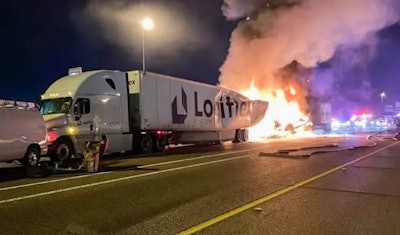 Maricopa County Sheriff's Office
A truck driver involved in a collision that claimed the lives of five people was using TikTok at the time of the crash earlier this year.
Danny G. Tiner was arrested last week and charged with numerous counts stemming from the Jan. 12 incident that occurred on Interstate 10 in Chandler, Arizona near Phoenix. The 36-year-old was charged with five counts of manslaughter, four counts of endangerment, and one count of tampering with physical evidence.
A statement from the Arizona Department of Public Safety said Tiner "was traveling 68 mph in the posted 55-mph construction zone and was actively using the TikTok application on his cell phone at the time of the collision."
He originally told police he received a message on his electronic work tablet and acknowledged the message. According to the statement, Tiner said when he looked back up traffic was stopped, and he could not stop his vehicle in time to avoid a collision.
In their incident report, state troopers determined Tiner failed to stop for congested traffic, rear-ended two passenger vehicles, and wedged them into the back of a second commercial truck. The second commercial truck was pushed forward and struck two additional cars.
The two passenger vehicles crushed between the semi-trucks caught fire. The fire spread to Tiner's tractor-trailer and to the second truck's trailer.