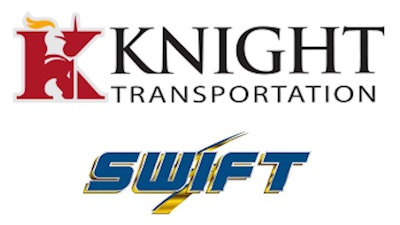 Knight-Swift
Knight-Swift Transportation Holdings Inc. closed on its acquisition of U.S. Xpress Enterprises, Inc. following the approval by U.S. Xpress' shareholders on June 29. Upon completion of the transaction, U.S. Xpress was de-listed from the New York Stock Exchange.
Knight-Swift paid $808 million for U.S. Xpress.
"We are grateful for the efforts of so many who worked diligently to bring about such a significant transaction in the truckload industry," said Knight-Swift CEO, Dave Jackson in a statement issued by the company. "Against the current backdrop of a particularly difficult business environment, the chance to add one of the largest brands in our industry, with significant opportunity to improve earnings, gain customers and reach more professional drivers, is a compelling part of our plan to drive higher highs and higher lows across successive truckload freight cycles.
"As we have engaged with more of the U.S. Xpress organization since the announcement, we have even more confidence that our combined efforts will lead to achievement of the profitability targets we communicated. Our cross-functional synergy teams made up of leaders from Knight, Swift, and U.S. Xpress are off to a great start collaborating on plans to share best practices, improve operations and leverage economies of scale – and now they have the green light to fully engage. While the truckload part of the organization focuses on achieving the goals we have laid out for U.S. Xpress, our LTL and M&A teams remain focused on our strategic priority of continuing to build out a nationwide LTL network."
Chattanooga-based U.S. Xpress operates a network of about 14 terminals and 30 drop yards, primarily located across the eastern U.S. Its fleet includes about 7,200 tractors and 14,400 trailers, including tractors provided by some 1,000 independent contractors. The company's workforce includes about 7,900 drivers (including independent contractors), 300 maintenance technicians, and 2,200 non-driver employees.