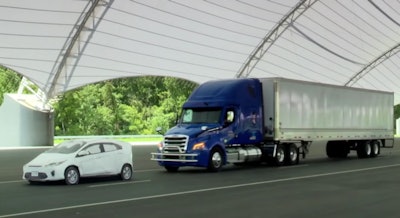 Insurance Institute for Highway Safety
How do you feel about having an automatic emergency braking system on the truck you drive? The federal government wants to know.
The Federal Motor Carrier Safety Administration and the National Highway Traffic Safety Administration are now accepting comments on a proposal that, if finalized, would mandate automatic emergency braking (AEB) systems on trucks with a gross vehicle weight rating of more than 10,000 pounds.
The notice of proposed rulemaking (NPRM) published recently is open to public comment now through Sept. 5. Comments to NHTSA can be made here, while comments to FMCSA can be made here.
The NPRM is in response to a mandate under the Bipartisan Infrastructure Law directing the Department of Transportation to enact a Federal Motor Vehicle Safety Standard (FMVSS) that requires heavy commercial vehicles with FMVSS-required electronic stability control systems to be equipped with an AEB system and also promotes DOT's January 2022 National Roadway Safety Strategy to initiate a rulemaking to require AEB on heavy trucks.
RELATED NEWS: Federal agencies propose mandating automatic emergency braking
The notice also proposes Federal Motor Carrier Safety Regulations (FMCSRs) requiring the electronic stability control and AEB systems to be on during vehicle operation.
The proposed requirements also include two tests to ensure that the AEB system does not inappropriately activate when no collision is actually imminent.
This proposal would require that all of the NHTSA AEB requirements be phased in within four years of publication of a final rule.
FMCSA's proposed rule is intended to ensure that commercial motor vehicles equipped with the ESC and AEB systems mandated by NHTSA are maintained and operated safely.
NHTSA and FMCSA also jointly determined not to propose AEB retrofitting requirements for existing heavy vehicles or ESC retrofitting for vehicles not currently subject to FMVSS No. 136.
"Considering the effectiveness of AEB and electronic stability control technology (ESC) at avoiding these crashes, the proposed rule would conservatively prevent an estimated 19,118 crashes, save 155 lives, and reduce 8,814 non-fatal injuries annually once all vehicles covered in this rule are equipped with AEB and ESC," the agencies said in the NPRM. "In addition, it would eliminate 24,828 property-damage-only crashes annually."