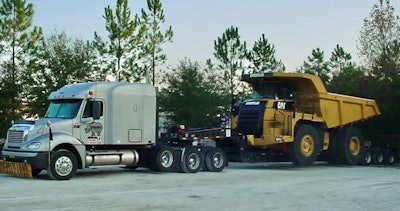 Rinaudo
P&S Transportation LLC, a PS Logistics subsidiary, announced today that it has purchased all substantial transportation assets of Rinaudo Enterprises Inc. and Ringo Specialized Hauling Inc., a privately owned interstate trucking and brokerage company that provides specialized transportation services for high-value industrial equipment across the Southeast and Midwest.
Financial terms of the transaction were not disclosed.
Headquartered in Jacksonville, Florida, Rinaudo was founded in 1984 by Frank Rinaudo Sr. and Frank Rinaudo Jr. and has continued to operate as a family-owned business since its founding. Rinaudo maintains a fleet of 56 tractors and 75 trailers and primarily hauls oversize and overweight industrial equipment for the infrastructure, construction, agriculture, and forestry end markets.
With this transaction, P&S has established a specialized business segment to further enhance and grow the services provided to existing and future customers within PS Logistics' freight network, according to a statement from the company.
"We are proud to welcome Rinaudo to the PS Logistics family," said Scott Smith, chief executive officer, and co-founder, PS Logistics. "Rinaudo brings highly skilled drivers, an established leadership team, and long-tenured customer relationships to the PS Logistics family, and we look forward to continuing the Rinaudo tradition of delivering best-in-class service to its customers."
The acquisition will provide Rinaudo, its customers, and its drivers with expanded capacity, new service offerings, and increased economies of scale.
Organizationally, Rinaudo will be managed by Kevin Nixon as a separate division of P&S. Rinaudo will continue to operate under the same name.
"P&S will be a great partner for our business," Frank Rinaudo Jr., president, Rinaudo said. "We are excited to partner with a larger organization that is also committed to its drivers and their success, and this will allow us to provide to our customers a wider array of services and increased capacity."
The Rinaudo acquisition continues PS Logistics' acquisition strategy of partnering with families and quality owners within the open deck trucking market. Since 2016, PS Logistics has successfully acquired 28 trucking and brokerage operations.