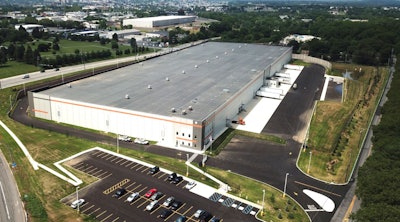 A. Duie Pyle
A. Duie Pyle, the provider of asset and non-asset-based supply chain solutions, recently announced the opening of a new state-of-the-art warehouse and distribution center located in Allentown, Pennsylvania. By expanding its operations with the addition of the new facility, the company strengthens its supply chain solutions to bolster operations in the heavily populated Northeast.
Located at 450 Lloyd St. in Allentown, this new facility will add warehousing and distribution, consolidation, deconsolidation, and integrated solutions, such as load consolidation and final mile dedicated services, to Pyle's regional network. Upon opening this year, there will be 30 staff onsite, and an additional 20 jobs will be created by the time the facility is fully staffed by the end of 2024 – bringing a total of 50 new jobs to the local economy over the next two years.
"This major investment brings much-needed warehousing capacity to the regional supply chain and further amplifies our capabilities as a leader in the space," said Frank Granieri, COO of Supply Chain Solutions at A. Duie Pyle. "We are continually researching how we can better meet our customers' evolving needs and continue to invest in real estate infrastructure to support their long-term growth objectives. With the opening of this facility in Allentown, we will be able to offer innovative engineered fulfillment and transportation solutions to our expanding customer base."
The new 326,630-square-foot facility sits on more than 20 acres of land and is easily accessible by both the I-78 and I-476 interstates.
Ohio college adds CDL course
Central Ohio Technical College is adding a new CDL training program.
COTC is partnering with Ancora Corporate Training, an established national provider of CDL training, to offer the program locally. COTC's Ancora Class A Tractor-Trailer program provides a balance between classroom learning and on-the-road training to prepare students for the CDL exam. Classes are small and taught by experienced instructors who can give students a real-life perspective on what it's like to be a truck driver.
The program will be offered exclusively at COTC's Pataskala Campus Annex.
Students will be trained to inspect and operate tractor-trailers and assume driver responsibilities on the road and at pick-up and delivery points. Emphasis is placed on vehicle inspections, defensive driving, range maneuvers, motor carrier safety regulations, trip planning, cargo handling, size and weight laws, general maintenance procedures, and accident prevention.
Students must hold a valid Ohio driver's license, complete a physical and drug screening and obtain a commercial learner's permit before training begins.
For more information, visit go.cotc.edu/cdl or contact Amanda Snider at snider.414@mail.cotc.edu or 740-755-7665.
ICYMI
Despite challenges, trucking revenue, tonnage, employment all grew in 2022
These are the folks who took home trophies from Truckers Jamboree