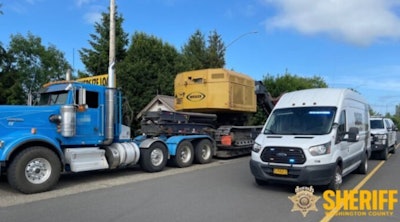 Washington County Sheriff's Office
A trucking company recently was slapped with a major fine for having a vastly overweight load.
The Washington County Sheriff's Office in Oregon posted about the June 15 violation on its Facebook page. They said:
"This morning just before 8 a.m. commercial motor carrier enforcement deputies with our Traffic Safety Unit stopped a tractor-trailer for multiple violations, including an improperly secured load and missing warning flags

"The driver did not have the permits required to haul a load this large and heavy. Deputies weighed the truck and trailer at the scales on Highway 26 near Highway 6. The truck was so overweight it would not even have been eligible for the weight variance permit

"The vehicle was 84,400 pounds over the limit, which resulted in a fine of $20,256. Because the truck and load were such a safety concern, the truck was placed out of service and the company was required to bring in a larger trailer with more axles to accommodate the weight"
Washington County is located just west of Portland.