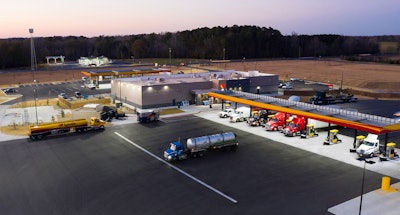 Love's Travel Stops
Love's Travel Stops today said it is continuing to support professional truck drivers with a $100,000 donation to the St. Christopher Truckers Development and Relief Fund. It's the fourth straight year the company has made a donation to the fund, which helps professional drivers and their families during difficult times.
"Professional drivers are a vital part of the nation's economy and industry, and they mean so much to us at Love's," said Jenny Love Meyer, executive vice president and chief culture officer. "It's essential to support them during hardships, and we're proud to support St. Christopher in its efforts to be there for drivers at their most challenging times."
The relief fund helps cover expenses, including rent, mortgage, utilities, insurance, and vehicle payments, when drivers are unable to work due to injury or illness. It also provides free health and wellness programs for professional truck drivers.
Love's first donated to St. Christopher in April 2020, when it gave $100,000 to aid drivers during the COVID-19 pandemic.
"Thank you, Love's Travel Stops, for fueling help and hope through your generous and continued support of St. Christopher Fund's mission to be a safety net for drivers when illness or injury takes them off the road," said Shannon Currier, director of philanthropy for St. Christopher. "Together we help truck drivers get back on their feet and back on the road."
Professional truck drivers in need of assistance can apply online via the St. Christopher website or email Shannon Currier at shannon@truckersfund.org.