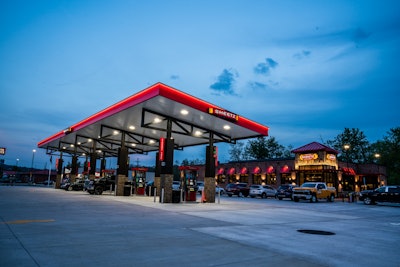 On Tuesday, August 8, Altoona, Pennsylvania-based Sheetz, will officially open its new store located at 1367 US-42 London, Ohio. This will be Sheetz's 24th Columbus-area store.
The store will include seven lanes that offer high-flow diesel fuel and diesel exhaust fluid for semi-trucks. The store will also feature 41 free parking spaces, available for overnight parking to truckers. This new location, which will be Sheetz's 37th store to offer truck diesel fuel lanes, can be easily accessed by truck drivers from I-70 Exit 79.
The grand opening festivities will begin outside the store at 9 a.m. with multiple prizes awarded, including a grand prize giveaway of free Sheetz for a Year. The store's official ribbon-cutting ceremony is set for 10:45 a.m. This new location, which opens to the public at 8 a.m., will also welcome customers by offering free self-serve coffee and soda for the entire grand opening day.
Sheetz currently operates 675+ store locations across Pennsylvania, North Carolina, Virginia, West Virginia, Ohio and Maryland, with all locations open 24/7, 365 days a year. Customers can check if other Sheetz locations sell high flow diesel fuel and Diesel Exhaust Fluid (DEF) through the Sheetz mobile app or website, by filtering "truck diesel" and/or "Bulk DEF."