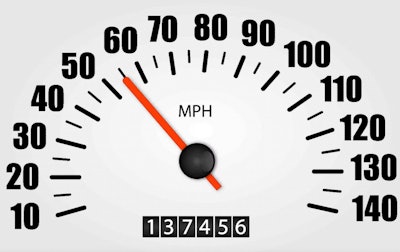 The House Appropriations Committee has approved legislation that would prohibit funding for a Federal Motor Carrier Safety Administration proposal to require the installation of speed-limiting devices on heavy trucks.
Approved during a July 18 committee markup, the appropriations bill proposes a budget of $891.3 million for FMCSA in fiscal 2024, which begins Oct. 1. However, the legislation includes a provision that allows no funding to be used "to promulgate any rule or regulation" mandating the installation of speed limiters on trucks, buses and multipurpose passenger vehicles weighing more than 26,000 pounds.
RELATED NEWS: Year so far has been 'very busy' for regulations; there's still more to come
It now goes to the full House for possible approval.
The appropriations bill isn't the first attempt by Congress to block a speed limiter mandate. A bill was introduced in the House in May by Rep. Josh Brecheen (R-Oklahoma) -- the Deregulating Restrictions on Interstate Vehicles and Eighteen-Wheelers (DRIVE) Act – that would prohibit FMCSA from issuing a rule or regulation to require speed limiters on trucks. The legislation has 21 co-sponsors -- all Republicans.