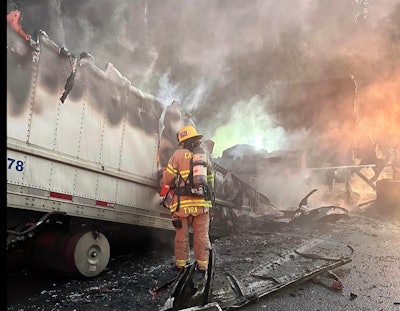 CAL FIRE
A tractor-trailer carrying 40,000 pounds of chocolate caught fire and burned recently.
CAL FIRE reports the blaze occurred in the early morning hours of July 31 on Interstate 80 near Colfax in Place County northeast of Sacramento.
No injuries were reported.
The cause of the blaze was not released.
J.B. Hunt adds 13 zero-emissions trucks to fleet
Arkansas-based J.B. Hunt recently announced it is adding 13 Nikola zero-emissions Class 8 trucks to its fleet as part of its focus on its sustainability efforts and reducing the intensity of its carbon emissions.
The initial truck order will include 10 battery-electric and three hydrogen fuel cell electric vehicles, with delivery of the first vehicles expected this month. These trucks will be strategically located at facilities servicing J.B. Hunt's key routes, including in the greater Los Angeles and Phoenix areas. Nikola's hydrogen arm, HYLA, will supply the hydrogen and fueling infrastructure.
"It's important for us to be at the forefront of new technologies and innovative solutions that have the potential to change the way we move freight," said Nick Hobbs, chief operating officer and president of contract services at J.B. Hunt. "These zero-emission trucks from Nikola advance our progress towards achieving our ambitious goal to reduce carbon emission intensity through viable solutions."
ICYMI
Brakes and hours of service lead Roadcheck out-of-service violations
Driver Poll: What is the biggest challenge facing truck drivers?
Schneider acquires Massachusetts dedicated carrier M&M Transport
Canadian carrier acquires 200-truck truckload company in U.S. Southeast