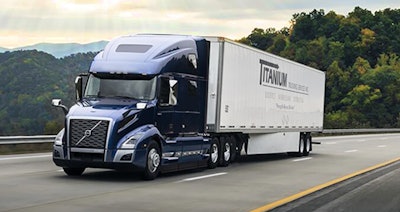 Titanium
Titanium Transportation Group Inc. today announced it acquired the assets and equipment of Crane Transport of Oakwood, Georgia, for $53 million.
Titanium, which is based in Bolton, Ontario., Canada, also purchased all real estate related to Crane's operations, including the head office terminal in Georgia, and its satellite terminal in Alabama, for an additional $6 million.
The acquisition marks Titanium's first one in the U.S., according to the company.
Founded in 2001, Crane Transport is a family-owned and operated carrier specializing in full truckload interstate freight transportation services. Crane generates approximately $60 million in annualized revenue and operates more than 200 trucks, according to a statement from Titanium.
Ted Daniel, CEO, of Titanium, said, "Today's announcement is further evidence of Titanium executing on its strategic plan and continuing to build a strong foundation for future growth in North America. The addition of Crane Transport's full truckload business is highly synergistic within our existing network, immediately adding capacity and valuable new customer relationships.
"The acquisition will allow us to expand our presence across the United States through our new strategically located terminals in Georgia and Alabama, expanding our service offerings and enabling us to offer a wide range of services including end-to-end supply chain and freight management solutions to our existing customers.
"Crane Transport is an excellent fit for us, from a strategic and cultural point of view and I would like to welcome the Crane team into the Titanium family."
Titanium said the acquisition continues to expand its presence in the US southeast's freight alley, which includes North Carolina, South Carolina, Tennessee, Georgia, and Alabama, where a significant portion of this region's economy is driven by transportation-related activities.
Danny Crane, founder and CEO of Crane Transport, said, "I am pleased to have the Crane team join the Titanium family, I feel the business and culture of Titanium is a perfect fit for our group moving forward. I am confident that Titanium's strong platform and growth strategy will be a perfect fit for Crane. Their focus on innovation and technology, as well as culture will provide opportunities of growth for our employees, while continuing to deliver reliable service to customers, every mile of the way."
Titanium Transportation Group Inc. owns more than 800 power units, 3,000 trailers, and has 1,100 employees, and owner-operators. It specializes in truckload, cross-border trucking services, freight logistics, and warehousing and distribution to over 1,000 customers. Titanium Transportation Group Inc. has approximately 100,000 sq ft. of warehouse space.
Titanium Transportation Group Inc. has made 12 asset-based trucking acquisitions since 2011, according to its website.