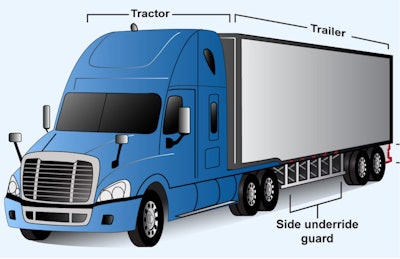 Government Accountability Office
The first half of 2023 was a challenging time for keeping up with changes to existing trucking regulations and the creation of new ones. Two editors who track regulatory issues suggest the second half of the year will be just as busy.
That was the assessment Thursday of Mark Schedler and Daren Hansen, both of who are senior editors for transportation issues at J.J. Keller & Associates, providers of safety and compliance services for several industries including trucking. They offered that view during an online webinar.
"It's shaping up to be a very busy regulatory year," said Schedler.
The year began with Canada's electronic logging device mandate going into effect. U.S.-based drivers entering Canada must have an ELD certified for use in Canada. One of the major differences between U.S. and Canadian ELD regulations is how much mileage is allowed for personal conveyance. While U.S. regulations do not limit mileage or time, Canada limits personal conveyance to 75 kilometers -- 46.6 miles -- per 24 hours.
Also early in the year, there was a change in how carriers could verify the Federal Motor Carrier Safety Administration's requirement of investigating drivers' possible alcohol and drug violations. The new regulation allows carriers to meet that requirement by performing a pre-employment query of the agency's Drug and Alcohol Clearinghouse.
In June, the use of oral fluid -- a.k.a. saliva -- was approved for drug testing. However, it requires at least two labs to be certified to do the testing, and as of now, no lab has received certification.
The advantages of using saliva testing instead of urinalysis, include its ability to detect recent drug use and it's potentially less expensive. Saliva testing could be a valuable tool after an accident occurs.
Hansen said saliva testing is not expected to be an accepted test until the end of this year or early 2024.
The use of hair samples for drug detection remains under review.
Also during the first half of the year, FMCSA increased the maximum amount of fines for violations of its regulations. They increased by 7.75% to keep up with inflation.
What's ahead?
Plenty according to Schedler and Hansen. The list includes:
proposed major changes to FMCSA's Compliance, Safety Accountability process
review and possible changes to the Crash Preventability Determination program
FMCSA and the National Highway Safety Administration proposed requiring automatic emergency braking systems on new vehicles (the comment period for this proposed change is still open)
narrowing the emergency exemptions, allowing waivers of fewer rules and restricting waivers to five days instead of the current 30 days
a proposal to require all commercial vehicles be fitted with technology to transmit unique identifying information electronically to inspection stations to help identify high-risk carriers
proposed requiring speed limiters on most heavy-duty trucks, but no speed has yet been suggested
amending rules to accommodate advanced driver assistance systems, including their inspection, repair, and maintenance
clean up of ELD rules, including allowing paper logs only when ELD malfunctions cause inaccurate logs
considering requiring side underride guards on most trailers, which would add from 450 to 800 pounds and withstand crashes of at least 40 mph
a final rule expected in February of 2024 on broker/freight forwarder financial responsibility, including a minimum of $75,000 financial responsibility
laws requiring lower emissions similar to the ones enacted by the California Air Resources Board that require zero emissions by all trucks by 2045
changes to cargo securement regulations