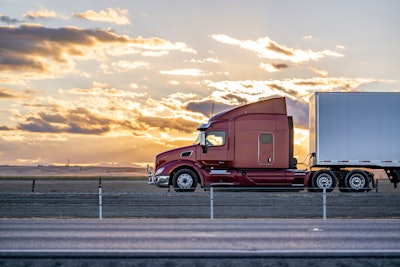 Two recent reviews of trucking business conditions in the U.S. are mostly devoid of truly positive findings.
The August economic report from Motive (formerly known as KeepTruckin) predicts the current freight recession will remain through the rest of this year
Motive's report says the freight recession is moving upmarket, trucking jobs are declining, and after a stronger-than-expected July 4th, retail demand has corrected.
It also found
July data showed continued declines in U.S. carriers but with a key difference: fleets of five vehicles or less that are exiting fell by 5%, meaning more exits were mid-sized to larger fleets than we've seen in 2023.
It expects the current rate of contraction to continue, and more truck drivers could be unemployed as a result.
Retail demand trended back downward post-July 4th, showing a 15% year-over-year decline.
The freight recession may be a return from the pandemic's artificial demand highs, as e-commerce growth is now back in line with pre-pandemic 10-year averages.
Motive says trucking (and the general freight market) remain in a "detox" period, where the outsized consumer demand of the pandemic led to inflated gross margins and growth. While some are saying the economic picture might be improving, Motive is predicting this suppressed demand and the resultant freight recession will continue at least through the end of the year.
The Bloomberg|Truckstop Truckload Survey
Conditions have come to a critical point for truckers operating in the spot market as carriers show frustration over declining rates and rising costs, according to the latest Bloomberg | Truckstop survey, which polled owner-operators and small fleets.
"We remain optimistic that rates are near a bottom and poised to rise with a return to more normal seasonal trends and inventories," said Lee Klaskow, senior freight transportation and logistics analyst at Bloomberg Intelligence. "Uncertainty about when rates will recover is making it increasingly more challenging for truckers to operate as independent carriers in the face of lower demand."
The survey shows:
The outlook for trucking demand in the spot market has taken a decided turn for the worse, which is driving uncertainty over where depressed spot rates will head from here. The weak backdrop and rising costs may push more owner-operators to the side as profits become elusive, which in turn could be the catalyst to push rates higher.
Carrier sentiment is mostly split on where spot rates excluding fuel surcharges are headed following the average 19% drop in the second quarter. About 39% of respondents from the Truckstop survey expect spot rates to rise in the next three to six months, while 24% see a decline, 3 percentage points less than three months earlier. Carriers have grown less pessimistic about rates since their outlook hit a low in the third quarter of last year, when 38% said rates would fall.
More professional truck drivers are leaving the industry. Spot demand remained soft for carriers in the second quarter with 55% of respondents noting load declines from a year earlier, which is about 7 percentage points higher than three months earlier. About 10% plan to leave the industry in the next six months, double the survey of the first quarter.