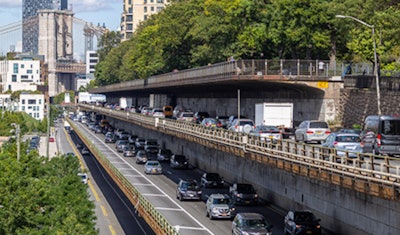 New York City Mayor's office
Starting Thursday, newly installed technology will be checking trucks to be sure they are within legal weight limits on a portion of one of New York City's major highways.
The city has installed "weigh-in-motion" sensors to identify and eventually fine overweight trucks on part of the Brooklyn-Queens Expressway.
According to the office of Mayor Eric Adams, under the new automated enforcement program, sensors will determine the weight of a given vehicle on the city-owned portions of the BQE and sync with license plate cameras to issue citations to those found to be in violation of weight limits outlined in state and federal law. The new program will kick off for Queens-bound traffic with a 90-day warning period beginning Thursday, Aug. 10. Then, beginning Nov.8, overweight trucks will be subject to a $650 fine per violation.
The weight-in-motion program on the BQE applies to the section of highway from the vicinity of Atlantic Avenue to Sands Street in Brooklyn.
Infrastructure will be installed for Staten-Island bound traffic this year, with the same 90-day warning period taking place before violations are issued.
A statement from the mayor's office said the new program expands the city's efforts to enforce state laws designed to protect the lifespan of roads and bridges, and it builds on ongoing targeted enforcement efforts by the New York City Police Department as well as city DOT's track record of administering successful automated traffic enforcement programs.
Additional information about truck weight limits and the weigh-in-motion program is available online.
"New York City is leading the country in protecting and reimagining our critical infrastructure, and this first-in-the-nation weigh-in-motion program will be a critical tool not only to protect the roadway but also to support our aggressive efforts to re-envision a safer and greener BQE," said Mayor Adams. "The BQE is a critical driver of our entire region's economy, and we will enforce the law to keep our city's recovery moving full speed ahead."
The city's DOT is partnering with the trucking industry to educate truck operators about the new automated weight limit enforcement, with the goal of preventing overweight vehicles from ending up on the city's roadways in the first place. DOT is also working with the NYPD and other partners to identify and target enforcement along alternative corridors that overweight trucks may try to use as an alternative.