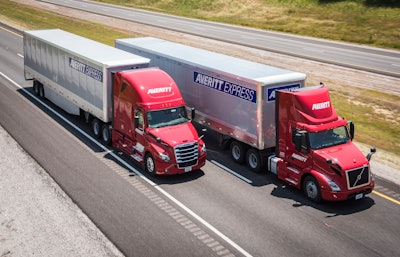 Averitt Express
As part of Averitt Express' continuing commitment to promote a culture of safety, the company recently launched a safety video campaign for its 5,000+ drivers.
The objective of the program, which began at the start of the year is to encourage safe driving practices through voluntary online refresher courses. The first quarter's course focused on how to drive safely in adverse conditions, presenting real-life situations that were captured on Averitt's outward-facing cameras. The second-quarter video covered tips on how drivers can control their speed.
All drivers who completed the course during each quarter were entered in separate drawings for 10 winners of Red Thinkin' Rewards points, Averitt's points-based incentive program. Thousands of drivers participated in the program in the first and second quarters, and Averitt plans to continue the videos by focusing on a specific topic each quarter.
All Averitt teammates are eligible to earn Red Thinkin' Rewards points for outstanding performance in a variety of areas, including achieving safety milestones, years of service, and meeting key performance indicator (KPI) goals. These points can be redeemed for thousands of items, including vacation packages, golf clubs, electronics, jewelry, and thousands of other items.
"We're proud of our culture of doing things the right way and the safe way," said Jason Bolton of Averitt's safety leadership. "The quarterly campaigns are another way to build on that commitment, and we're thrilled with how our driving associates responded."