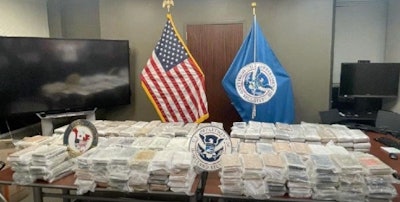 U.S. Customs and Border Protection
A 37-year-old Canadian truck driver was arrested late last week after authorities found some 850 pounds of cocaine in his truck parked at a western New York truck stop. The street value of the drugs was placed at $10 million by authorities.
U.S. Attorney for Western New York Trini E. Ross announced Friday, Aug. 11 that Ahmed El Kady, 37, of Hamilton, Ontario, Canada, was arrested and charged with possession with intent to distribute five kilograms or more of cocaine, and conspiracy to possess with the intent to distribute, and to distribute, five kilograms or more of cocaine. The charges carry a mandatory minimum penalty of 10 years in prison, a maximum of life.
Assistant U.S. Attorney Meghan E. Leydecker, said, on Aug. 7, El Kady made entry into the U.S. at the Ambassador Bridge Port of Entry in Detroit, driving a commercial truck without a trailer attached. El Kady told Customs and Border Patrol officers he was picking up a trailer locally in Detroit.
Investigators said El Kady traveled to the TA Travel Center in Dexter, Michigan, where, over the next two days, he appeared to make some sort of exchange with the drivers of two other commercial trucks. Investigators continued to surveil El Kady as he traveled to Ohio before returning to Dexter, Michigan and making another exchange with the driver of a third commercial truck. El Kady then traveled to Buffalo, arriving on the evening of Aug. 9, and spending the night at a local truck stop.
On Aug. 10, in the early afternoon, El Kady's wife Maja Tambur arrived at the truck stop. El Kady and Tambur got into Tambur's vehicle, traveling to Niagara Falls, where they made frequent stops throughout the area and were observed driving evasively in a manner consistent with individuals conducting counter-surveillance. After their attempts to lose investigators from their surveillance, El Kady and Tambur attempted to return to the truck stop.
A federal search warrant was executed on El Kady's truck, during which about 386 kilograms of suspected cocaine were seized, and El Kady was taken into custody.
El Kady made an initial appearance Friday afternoon before U.S. Magistrate Judge Jeremiah J. McCarthy and is being held pending a detention hearing on Aug. 14.