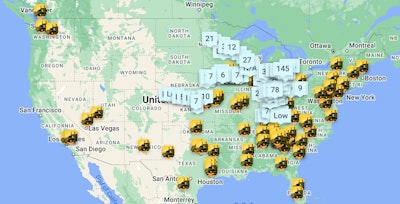 Truck Parking Club
TruckParkingClub.com, which connects truckers to hosts with available parking locations, recently announced its free rest stop truck parking availability service is now in eight states across America at no charge to its Members.
TruckParkingClub.com is an application that helps drivers save time and fuel by providing instant access to available parking throughout the United States.
The company has opened up its network of 143 rest stops across eight states, including Indiana, Iowa, Kansas, Kentucky, Minnesota, Michigan, Ohio, and Wisconsin, to over-the-road truckers looking for a safe, clean parking place.
"Having little awareness of truck parking availability in real-time is one of the biggest issues with truck parking today," said Evan Shelley, CEO at TruckParkingClub.com.
TruckParkingClub.com is solving this issue by providing truckers with a real-time view of truck parking availability. Whether checking availability at a rest stop or reserving a parking space to drop a trailer, parking for multiple days, or making sure you stay within your hours of service, TruckParkingClub.com is dedicated to solving the parking accessibility problem for the broader trucking community.
"TruckParkingClub.com is proud to offer free rest stop truck parking availability services across eight integral states to help our nation's truckers find legal parking," said Shelley.
TruckParkingClub.com provides a web and mobile app for truckers to see parking availability and book a space at their desired location. The TruckParkingClub.com app currently includes real-time availability at 143 accessible rest stops and 120 premium parking locations with added services like overnight, multi-night, and monthly stays, and reserved spaces.
By creating an account on the website or the mobile app, truckers can store their information for easy bookings in the future.
Property owners can list their parking sites on TruckParkingClub.com's website or app by creating an account and answering a few simple questions. TruckParkingClub.com takes the owner's unused space and turns it into truck parking. Typical property members on the platform include trucking companies, storage companies, tow truck companies, CDL schools, truck parking operators, real estate investors and more!
TruckParkingClub.com said itwill announce new locations and new features in the near future.