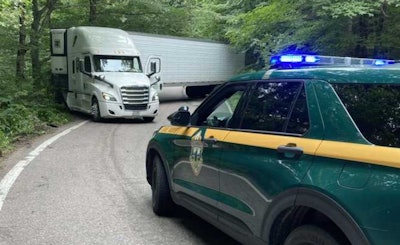 Vermont State Police
Ignoring highway warning signs just got expensive for one trucker and the company for which he drives.
The Vermont Agency of Transportation reports a tractor-trailer became lodged on VT Route 108 between Stowe and Cambridge around 11:20 a.m. Wednesday. This is commonly known locally as Smuggler's Notch Road.
RELATED NEWS: Fines to truckers on a Vermont highway increased
Vermont State Police said the driver, 66-year-old Billy Tolson of Loraine, Ohio told troopers he ignored the signs warning truckers to turn back as he believed he could make it through the Notch, according to mynbc5.com.
Tolson and his employer, Ohio-based trucking company Eagle Logistics, were issued a traffic ticket with a fine of $2,347 and two points.