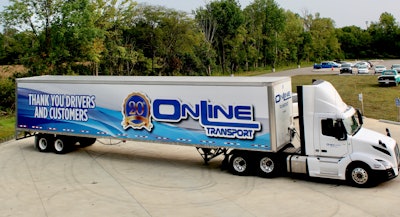 OnLine Transport
OnLine Transport Inc., an Indianapolis-based logistics and truckload company, recently purchased A/T Transportation and Automated Logistics, Inc based in Ferdinand, Indiana. This marks the second acquisition of 2023, and the sixth acquisition since 2019 for OnLine Transport.
Terms of the deal were not disclosed.
This latest acquisition comes on the heels of Online Transport's acquisitions of Mustang Express and Ormsby Trucking based in El Paso, Texas, Pleasant Trucking in Connellsville, Pennsylvania, Shoun Trucking in Bristol, Tennessee, and McCammon Trucking in Hartford City, Indiana.
"We are thrilled to welcome the highly-skilled professional drivers and non-driver associates of A/T Transportation into the Online Transport family," said OnLine Transport CEO Kalvin Cook. "We are combining two award-winning fleets to provide world-class service and capacity to our shipper partners and provide opportunities for our employees to grow. Having closed our sixth recent acquisition, we will continue the momentum and execution of our plan to become one of the largest asset-based logistics providers headquartered in Indiana. This will require OnLine to continue to pursue strategic acquisitions with other dry and refrigerated freight carriers and logistics providers."
OnLine Transport Co-President Nick Pavilonis said, "The addition of A/T Transportation business is highly synergistic within our existing network, adding capacity, additional logistical services, as well as valuable new customer relationships."
The Online family of companies also includes asset-based divisions Frontier Transport and W.S. Thomas Transfer. In addition to the asset-based divisions, OnLine operates freight brokerages Online Transport System and Frontier Logistics.
The corporate headquarters for OnLine is located in Greenfield, Indiana with terminals in Hartford City, Indiana; Logansport, Indiana; Jeffersonville, Indiana; Indianapolis; Ferdinand, Indiana; Georgetown, Kentucky; Knoxville, Tennessee; Bristol, Tennessee; Dublin, Virginia; Fairmont, West Virginia; El Paso, Texas; and Connellsville, Pennsylvania.