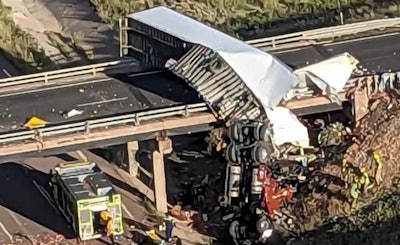 Pueblo County Sheriff's Department
A truck driver and one of two dogs riding with him died late last week when the tractor-trailer he was driving crashed on Interstate 25 in Colorado.
The wreck occurred at about 7 a.m. Friday, Aug. 18 on northbound I-25 near mile marker 88 south of Pueblo.
Colorado State Police told KKTV the tractor-trailer was northbound on I-25 when it abruptly veered off the road, hitting a post and then a guardrail as it continued into the median. It struck a guardrail on the southbound lane and the tractor left the interstate and wound up dangling from the bridge. The trailer rolled on its side and blocked the southbound lanes.
The driver, 33-year-old Denzal Stewart of Bryan, Texas, died at the scene. So died one of two dogs traveling with Stewart. A second dog was rescued from the heavily-damaged cab and received veterinary care.
A southbound Chevy Silverado crashed into the top of the trailer. That driver was able to pull over on the shoulder and was not injured.
Police continue their investigation.