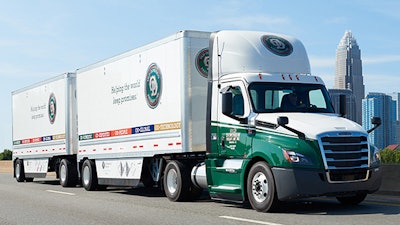 Old Dominion Freight Line
Less than truckload giant Old Dominion Freight Line has offered $1.5 billion for Yellow Corp.'s nationwide network of 169 terminals, topping the earlier $1.3 billion bid by rival Estes Express Lines.
All of Yellow's vast real estate holdings are up for sale as part of the company's Chapter 11 bankruptcy liquidation. Yellow filed for bankruptcy Aug. 18 after announcing it was ceasing operations earlier.
The Wall Street Journal reports Old Dominion's bid would cover the debt Yellow took on before filing for bankruptcy. The Journal also said Old Dominion's "offer is subject to higher or better proposals at a court-supervised auction, for Yellow's properties."
Old Dominion has 256 terminals in 48 states. The company based in Thomasville, North Carolina has 24,000 employees including 12,000 drivers.
In its bankruptcy filing, Yellow is said to have had $2.15 billion in assets, and $2.59 billion in liabilities, including the $700 million it owes the federal government for a pandemic-era loan.`
Yellow will also sell off its fleet of some 12,700 tractors and 42,000 trailers.