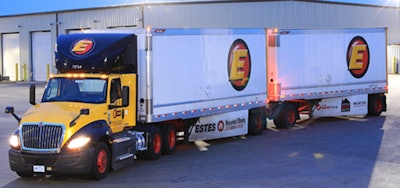 Estes Express Lines
A former competitor has made an offer to purchase all of the terminals owned by Yellow Corp., which earlier this month filed for Chapter 11 bankruptcy.
Estes Express Lines offered to purchase Yellow's 166 terminals for $1.3 billion. The Richmond, Virginia-based less-than-truckload carrier had previously offered a bankruptcy loan Yellow, which the carrier turned down in favor of other offers.
If Estes is successful, the purchase of Yellow's terminals would add to the 280 the company has in the U.S. and Canada. The company earlier this year opened two new terminals, one in New Orleans and the other in Banning, California.
Estes has 10,100 drivers and a total of 22,100 employees.
RELATED NEWS: Yellow bankruptcy filing spurs run-up in transportation stocks
Yellow filed for bankruptcy Aug. 6, blaming the Teamster's union for its demise. The company said the drivers' union refused to go along with the company's plan to streamline its operations.
The Teamsters, which threatened a strike in late July over unmade benefit payments, blamed Yellow's closing on incompetent management.
In its bankruptcy filing, Yellow is said to have had $2.15 billion in assets, and $2.59 billion in liabilities, including the $700 million it owes the federal government for a pandemic-era loan.