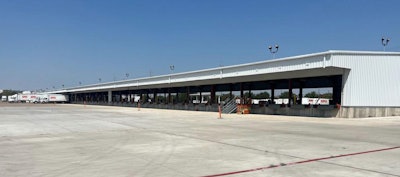 XPO
Greenwich, Connecticut-based XPO announced today the completed expansion of its Garland, Texas, service center, substantially expanding capacity in metro Dallas. This marks another important milestone in the company's previously announced plan to grow capacity by adding 900 net new doors nationally by the first quarter of 2024, according to a statement from the company.
This strategic expansion adds 58 doors in the north Texas region, enabling XPO to service more customers in this growing market.
Dave Bates, chief operating officer of XPO, said, "With the expansion of our Garland service center, we'll be able to do even more for our customers in the thriving metro Dallas region and serve their needs with additional flexibility and speed. We're excited to build on our strong local presence in Texas with more well-paying career opportunities and expanded service for businesses across the area."
The Garland service center currently employs over 100 people. With the completion of the expansion, the company expects to hire additional dockworkers and driver sales representatives. In total, XPO employs nearly 2,300 people across Texas.
Love's rebrands EZ GO 2 locations in Oklahoma
Professional drivers in Oklahoma can now enjoy Love's Travel Stops branded snacks and loyalty program savings in Muskogee and Stroud, as Love's completes rebranding work on these former EZ GO locations along the Muskogee and Turner Turnpikes. Added offerings through the Love's Connect app include Mobile Deals and the 10-cents-off-per-gallon discount on gasoline and auto diesel for four-wheel customers.
The travel stops in Muskogee and Stroud are the third and fourth stores to be rebranded in Oklahoma, joining the locations in Walters and McAlester. Love's will rebrand the remaining seven EZ GO turnpike stops in Oklahoma and Kansas over the next several weeks, with work scheduled to be complete by the end of October, weather permitting. 
In April, Love's acquired EZ GO from Oklahoma-based Carey Johnson Oil Company. The acquisition included six travel stops on Oklahoma turnpikes and five on the Kansas Turnpike. The turnpike locations are the first ever for Love's.
ICYMI
4.1 million mile trucker wins CVSA's International Driver Excellence Award
2 new Love's Travel Stops locations open in Louisiana and Nevada
Driver Poll: Have you participated in any trucking-related training or upskilling programs in the past year?
These are busy times for mergers and acquisitions with even more to come