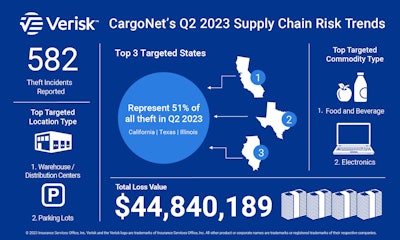 CargoNet
Cargo thieves were especially busy during the second quarter of the year.
CargoNet, which tracks and investigates cargo theft, recorded 582 events across the United States and Canada in the second quarter, a 57% increase compared to the same three months in 2022. In total, thieves stole over $44 million in shipments, and the average shipment value per event increased nearly $100,000 to $260,703 per theft as cargo thieves focused on high-value shipments.
Much of the increase is due to ongoing shipment misdirection attacks, according to a statement from CargoNet. This is a kind of strategic cargo theft in which actors use stolen motor carrier and logistics broker identities to obtain freight and misdirect it from the intended receiver so they can steal it.
CargoNet said theft of a loaded conveyance such as a full trailer increased 17% year-over-year. These kinds of thefts were most common in California, Texas, Florida, and Illinois. The theft monitors also said regional activity around New York City and Philadelphia was significant.
Burglary of a loaded conveyance decreased slightly year-over-year due to the impact of recent law enforcement activity. However, CargoNet said this sort of theft remains a significant threat to shipments especially high-value shipments that are traveling on the Interstate 40 corridor through Arizona, California, and New Mexico.
CargoNet said there was also significant growth in extortion and theft by conversion schemes, particularly from organized groups in Illinois and California. These groups focus on obtaining shipments from logistics brokers, tacking on extra and often exorbitant fees for various manufactured reasons like overweight tickets or previous rate penalties charged to non-affiliated motor carriers. Criminal enforcement for such cases is complex and rare, which has emboldened organized groups, according to CargoNet.
CargoNet also recorded 127 more fictitious pickups year-over-year. Fictitious pickups were most common in the Los Angeles metro area, but fictitious pickups occurred all over the continental United States. Some counties recorded a significant problem due to their local industry like Maricopa County, Arizona; Travis County, Texas; Chambers County, Texas; and DeKalb County, Georgia.
Fictitious pickup groups stole shipments from 39 different product categories in the second quarter of 2023, but primarily focused their efforts on a smaller grouping of freight. This includes alcoholic beverages, non-alcoholic beverages, specifically soda and energy drinks, solar power energy generation equipment, and various kinds of automobile supplies including auto parts, fluids, oils, and tires.
According to CargoNet, this style of fictitious cargo pickup relies heavily on subcontracting the shipment to a legitimate motor carrier and having the shipment misdirected to another address. Logistics brokers and shippers can help prevent fictitious cargo pickups by verifying any bids on shipments with the motor carrier through their contact information on file with the Federal Motor Carrier Safety Administration and verifying the name of the motor carrier and driver matches who the shipment was tendered to.
Motor carriers should be wary of new customers who want them to haul a blind shipment to an address different from the bill of lading, especially if the address is a public warehouse or cross-dock in California.
CargoNet said it remains committed to efforts to mitigate fictitious cargo pickups and assist law enforcement agencies investigating these crimes. They ask carriers to report any suspicious activity to law enforcement immediately and contact CargoNet at 888-595-2638 only after law enforcement has been notified and there are no immediate threats to life or property.