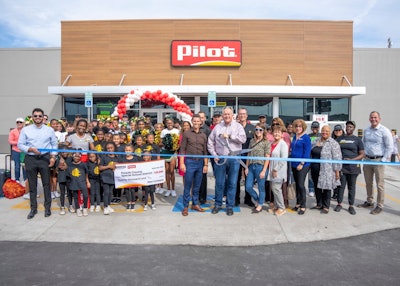 Pilot
The Pilot travel center in North Little Rock, Arkansas recently hosted a celebration of the remodeling of the store.
The remodel is part of Pilot Company's nationwide initiative, called New Horizons, to invest $1 billion in remodeling its stores to upgrade the experience for team members and guests and prepare for the future of travel.
As part of the store's complete overhaul from curb to counter, the Pilot travel center located at 3300 Highway 391 North now features:
Refreshed and expanded restrooms and showers
Three new self-checkouts
Pilot's premium coffees, including bean-to-cup selections and cold brew
New public laundry facilities
A lounge for professional drivers
A remodeled Pizza Hut
A remodeled Subway
"Our team works hard to make these remodels happen, and it's a moment of pride for them to celebrate with their family, friends, communities and guests," said Allison Cornish, vice president of store modernization at Pilot Company. "Being that September is also when we recognize Driver Appreciation, it was only fitting that we create a fun atmosphere for professional truck drivers and community members to gather together and have a good time."
In addition to the grand opening, guests are eligible to receive 25% off food and beverage purchases at this location all month long by using the code "PFJDriver" in the myRewards Plus app.