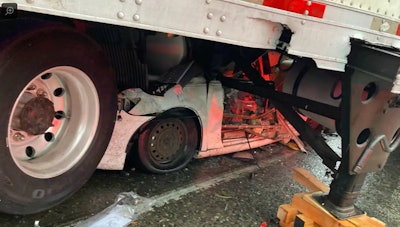 Portland Fire & Rescue
Two people were injured Sunday, Sept. 24, when a car became trapped under the trailer of a tractor-trailer on an interstate in Portland, Oregon.
Reports of the incident say the collision occurred at about 5 p.m. on the ramp between Interstates 84 and 205.
Photos from the scene show the car completely under the trailer and the cab of the truck severely damaged. Portland Fire & Rescue said both drivers had to be extricated from their vehicles, and taken to a hospital.
No cause for the incident was given and the investigation continues.
NY college partners with Ancora for CDL program
Niagara County Community College announced recently it will partner with Texas-based Ancora to provide the commercial driver license training at the school in western New York.
The community college was previously going to partner with Swift's National Tractor Trailer School before it was shut down by its parent company in April. Registration will open in November, with the first classes starting in the first quarter of 2024 and being offered six times a year.
The program will work with the Niagara County Workforce Development Board to offer discounts and other businesses for sponsorships.
UPS hiring 100,000 for holiday rush
UPS announced today it will hire more than 100,000 seasonal employees for the upcoming holiday season.
The company said in a statement it is filling full- and part-time seasonal positions, primarily seasonal delivery drivers, commercial driver's license drivers and package handlers. Permanent positions also are available in some areas for those who apply early.
The company said its streamlined, digital application process now takes less than 20 minutes for most people – from filling out an online application to receiving a job offer. And nearly 80% of seasonal positions do not require an interview.
Those interested in seasonal work at UPS should apply at upsjobs.com.
ICYMI
CA governor vetos bill requiring drivers in autonomous trucks
Sheetz opens three new locations this week; adds 120 truck parking spot
10 tips to incorporate in your day for safer, more efficient travel