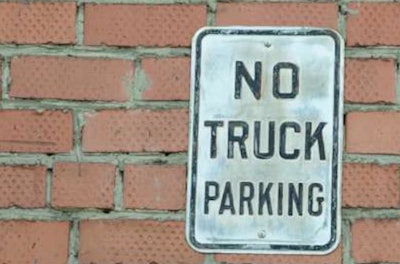 If your trucking takes you through San Antonio, Texas you may soon have to plan on parking elsewhere when you stop for the night.
The city is considering banning overnight truck parking on all streets. Truck parking between 10 p.m. and 6 a.m. is already banned in residential areas of this city of 1.5 million people.
In May, a city council member submitted a proposed ordinance to ban truck parking on non-residential streets between 2 a.m. and 6 a.m. The proposed ordinance was reviewed recently by the Public Safety Committee, and the council is expected to take up the proposed ordinance at a future meeting.
KSAT-TV spoke with the owner of a truck parking facility who said she has a waiting list of 50 truckers seeking parking.
Earlier this year, the city of St. Paul, Minnesota passed an ordinance banning truck parking. That ban takes effect Jan. 1.
Truck parking continues to be a major problem for many drivers. A recent poll by Truckers News found that 51% of respondents replied "constantly" when asked how often they have trouble finding parking. Another 32% said they often had problems finding a place to park.
In last year's survey by the American Transportation Research Institute of the major issues facing the trucking industry, drivers rated the lack of safe truck parking as their number one concern. The overall survey ranked truck parking as the third most important issue.