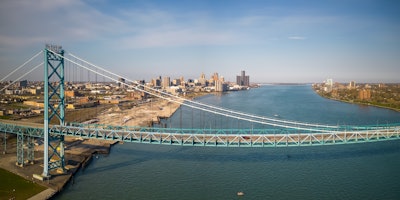 SNEHIT PHOTO / Shutterstock.com
A Canadian trucker was convicted last week by a federal jury on charges of possessing with the intent to distribute over 50 kilograms of cocaine, United States Attorney Dawn N. Ison announced today.
Subeg Singh, 30, was convicted during a three-day trial held in Detroit before U.S. District Stephen J. Murphy III. Singh has been in custody since his arrest in September 2021.
Given the type and quantity of drugs involved, Singh is facing a mandatory 10-year prison sentence, with a maximum possible sentence of life imprisonment, according to a statement from the U.S. Attorney. Sentencing is set for Jan. 9, 2024.
That statement also said evidence presented during the trial showed Singh tried to drive more than 50 kilograms of cocaine across the US-Canadian border in September of 2021 in a commercial truck. But, he was stopped at the Ambassador Bridge by Customs and Border Protection Officers, who discovered the drugs in the trailer.
"Today's verdict sends a message to drug traffickers and couriers who compromise the security of our borders by attempting to transport narcotics across them," stated United States Attorney Ison. "This verdict is a result of the hard work of our Customs and Border Protection Officers who intercepted the drugs, and Homeland Security Investigations who investigated the case."