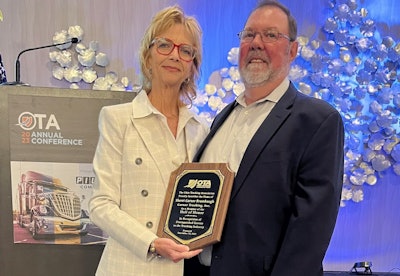 Ohio Trucking Association
The leader of an Ohio trucking company was recently honored by that state's trucking organization.
Sherri Garner Brumbaugh, president and CEO of Garner Trucking, Inc. was recently inducted into the Ohio Trucking Association' 's Hall of Honor. The recognition came during the association's recent annual conference.
The award is given by the association to a member who has a record of distinguished service to the trucking industry.
Garner Brumbaugh has been involved with numerous tracking organizations during her more than 30-year career in the industry. She served as chairman of the board of directors of the American Trucking Associations. She also served on the boards of the Truckload Carriers Association, the Ohio Trucking Association, and the Indiana Motor Truck Association.
She also served on the Advisory Committee on Human Trafficking for the federal Department of Transportation.
Garner Brumbaugh graduated from Ohio State University and received a master's degree from Bowling Green State University.
Garner Trucking, based in Findlay, Ohio, has 83 power units. The company has been named to the Best Fleets to Driver For Hall of Fame.