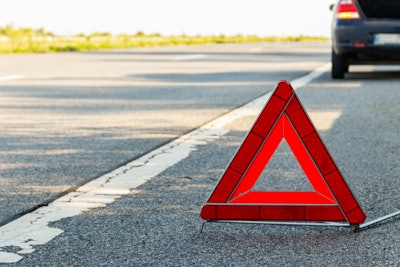 New York is the latest state to expand its "mover over" law.
Gov. Kathy Hochul recently signed a new law that requires motorists to move over for all vehicles stopped along the side of a highway. The law "requires an operator of a motor vehicle to exercise due care to avoid colliding with a vehicle which is parked, stopped, or standing on the shoulder of a parkway or controlled-access highway" by changing lanes.
According to the governor's office, nearly 300 drivers are struck and killed roadside every year, and 37 people were struck and killed outside of a disabled vehicle in New York between 2016 and 2020.
'Shark Tank's' Kevin O'Leary speaker for TCA convention
Kevin O'Leary, known as Mr. Wonderful on TV's Shark Tank program, will be the keynote speaker at the Truckload Carrier Association's annual convention Truckload 2024.
A frequent guest on CNBC, Fox Business, and CNN, he is an expert on business topics and financial markets. O'Leary is the founder of O'Leary Financial Group; Chairman of O'Leary Ventures, Beanstox, and O'Shares Investments; and a Strategic Investor in WonderFi. A self-made multi-millionaire who has launched and invested in more than 80 companies in the U.S. and his native Canada, O'Leary is passionate about helping people from all walks of life gain the freedom that comes from achieving their financial and entrepreneurial dreams.
O'Leary is an avid chef, wine lover, world traveler, photographer, electric guitarist, guitar collector, and New England Patriots fan.
He received an honors bachelor's degree in environmental studies and psychology from the University of Waterloo and an MBA in entrepreneurship from the Ivey Business School at the University of Western Ontario. 
The convention will be held March 23-26 in Nashville.
Registration for ATHS national show opens
Registration is now open for the American Truck Historical Society's 2024 National Convention & Truck Show in York, Pennsylvania.
The show and convention will be held June 6-8 at the York Expo Center.
You can register online for the annual gathering.
If you need assistance or have questions, contact ATHS at 816-891-9900 or email [email protected].
The Antique Truck Club of America holds its annual show in Macungie, Pennsylvania the next weekend, so ATHS exhibitors can also attend that show.
ICYMI
Mack says UAW's new contract demands 'surprising' and 'unrealistic'
Driver Poll: Do you find it challenging to balance your work as a trucker with your personal life?
Paccar recalls over 1,300 2021-'24 model year Peterbilt 579, 567 trucks