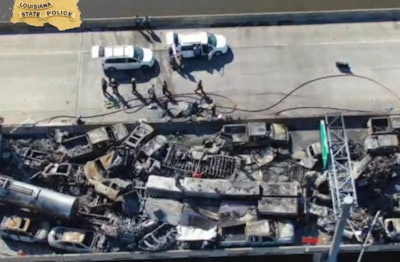 Louisiana State Police
A 20-mile-long portion of Interstate 55 in St. John the Baptist Parish near New Orleans remains closed today following crashes involving at least 158 vehicles -- including at least 18 tractor-trailers -- that claimed the lives of seven people and caused injuries to numerous others.
Louisiana State Police say the section of the interstate starting at about mile marker No. 1 northbound and mile marker No. 22 southbound is expected to be closed for the "foreseeable future," according to NOLA.com.
The pileups that occurred Monday morning are being blamed on a combination of what weather officials called "super fog" and smoke from a nearby wildfire.
Fox Weather reports as many as 18 tractor-trailers were involved in the crashes that began shortly after 9 a.m. Police report three tractor-trailers collided in the northbound lanes of I-55, caught fire, and were destroyed. A tanker loaded with what officials said was a hazardous liquid was also involved in a collision.
The Louisiana Department of Transportation and Development said it plans to inspect the bridges where crashes occurred for damage from the fire involving the 18-wheelers.