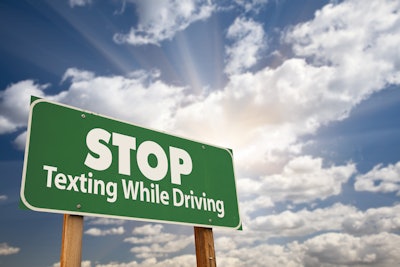 Connecticut law enforcement officers will be cracking down on drivers who are texting or engaging in other distracted driving bevaior now through the end of the month.
The Connecticut Department of Transportation Highway Safety Office, along with state and local law enforcement, has announced officers will increase enforcement and pull over texting and distracted drivers during this high-visibility effort to enforce texting and distracted driving laws through Oct. 31.
Ticketed drivers are fined $200 for the first offense, $375 for the second offense, and $625 for the third and subsequent offenses.
There were nearly 5,200 crashes attributed to distracted driving in the state last year.
"Everyone should understand the incredible risk of texting while driving. Taking your eyes off the road for a moment is all it takes to cause a crash and change lives forever," said Connecticut Department of Transportation Commissioner Garrett Eucalitto. "For the remaining days of October, our state will see an increased and highly visible law enforcement presence on our roadways with officers stopping and ticketing anyone driving distracted. If you have a phone in your hand, expect to be stopped and issued a ticket."
According to the U.S. Department of Transportation's National Highway Traffic Safety Administration, distracted driving claimed 3,522 lives in 2021 nationally, the last year of verifiable data.
Federal law requires truckers to use any device in hands-free mode.
Connecticut law prohibits the use of any hand-held mobile electronic device while operating a motor vehicle. Drivers who are 16- or 17- years old are prohibited from using a cell phone or mobile device at any time, even with a hands-free accessory.