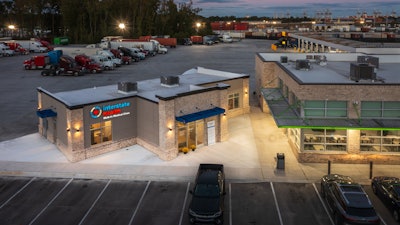 Interstate Health
Interstate Health has opened a new clinic in Port Wentworth, Georgia to provide urgent care, primary care, and occupational health services to commercial drivers, community members, and the many transport professionals who frequent the region.
The clinic is housed in a newly built, 2,100-square-foot building located on the Port Fuel Center property on the corner of Grange Road and Georgia Highway 21 near Interstate 95. The total investment in the facility exceeds $1 million.
The new clinic is open Monday through Friday from 8 a.m. to 5 p.m. EST and offers Department of Transportation and pre-employment physicals, preventative care and wellness visits, vaccines, medication management and other services.
"Port Wentworth is a vibrant community serving one of the largest and fastest-growing ports in the country," said Jeff Seraphine, Interstate Health chief executive officer. "As we continue to evaluate new locations where we can meaningfully bring our mission to life, the Port Fuel Center in Port Wentworth hits the mark. We are eager to serve the many drivers and other transport professionals who frequent the port, as well as the growing local community."
Interstate Health launched in November of 2022 and has since acquired the Occupational Health Center in Cookeville, Tennessee, and opened a clinic in Racine, Wisconsin. The Port Wentworth clinic is the company's first greenfield development and will serve as a model for future locations, according to a statement from the company.
"When we opened Port Fuel Center, we had a vision to serve our community and those who travel through – especially truck drivers going to and from the port – by creating an accessible option for basic needs like fuel, restrooms and food," said Yash Desai, partner at Port Fuel Center. "When we met the Interstate Health team and heard their mission, there was clear alignment. We are proud to partner with Interstate Health opening this clinic on the Port Fuel Center property and are eager to watch the impact it makes."