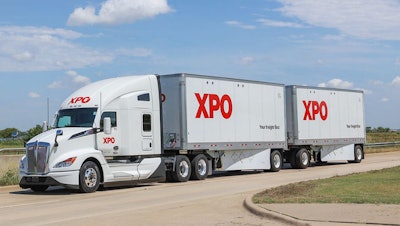 XPO
XPO has announced it is launching an in-house, over-the-road operation staffed exclusively by team drivers.
The Road Flex program is part of the company's previously announced strategy to insource third-party linehaul carrier miles to drive greater efficiency, expected cost savings and better service for customers, according to a statement from the company.
The Road Flex program is already underway with sleeper team runs from bases in Dallas and Phoenix. The company expects to expand this operation to a carefully selected group of additional service centers in 2024.
To support the program, the company is recruiting teams of long-haul drivers who will run dedicated routes between XPO facilities in trucks equipped with sleeping quarters and other amenities to ensure a comfortable on-the-road experience, the XPO statement said.
Tim Staroba, president of the East Division at XPO, said, "The launch of the Road Flex operation is a key step in accelerating our plan to insource third-party linehaul miles and create greater efficiency in our network. It'll enable us both to reduce costs and improve service for our customers by minimizing freight re-handling and expediting deliveries. We look forward to the growth of this new program and the great team drivers who will be joining XPO to support it."
A typical workweek for Road Flex team drivers will consist of five days on the road, followed by two days off, according to the company. While schedules may occasionally vary based on network conditions, XPO said it is committed to providing workplace flexibility and balance, along with what it called "industry-leading compensation and benefits."