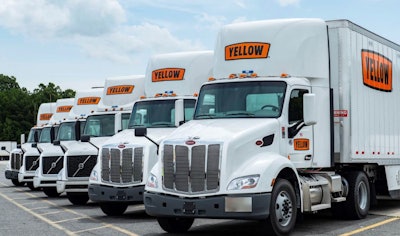 Yello Corp.
Nations Capital and Ritchie Bros. Auctioneers have received bankruptcy court approval to be the agent and liquidator of Yellow Corporation's transportation assets.
The companies will manage the relocation, transportation, refurbishment, inventory, storage, and sale of Yellow's rolling stock assets. The sale will include about 60,000 units of trucks, trailers, and miscellaneous LTL support equipment located across the U.S. and Canada at over 300 terminal locations.
According to a statement from NCI and Ritchie Bros., the two companies will implement what they called a multi-faceted sales strategy, including private treaty and strategic bulk sales, as well as live and fully digital formats, to maximize the value of the trucks and trailers throughout 2024.
"We are honored to provide Yellow Corporation a comprehensive solution to maximize the value of its rolling stock assets," said Jim Burke, executive vice president of NCI. "The historic size and complexity of this transaction required a highly coordinated effort between the teams at NCI, Ritchie Bros. and the company. Together with Ritchie Bros., we are prepared to lead one of the largest disposition events in our industry."
For nearly 100 years, Yellow Corporation was one of the largest logistics and LTL networks in North America with local, regional, national and international capabilities. After extended financial issues, the company ceased operations and filed for Chapter 11 bankruptcy in early August.
"We are excited to offer the market this extensive fleet of trucks, trailers and support equipment from what was one of North America's largest carriers," said Zac Dalton, executive vice president of NCI.
Additional details about the purchase of the rolling stock assets can be found at nci.direct or by contacting [email protected].