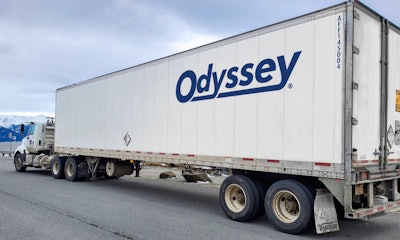 Odyssey Logistics
Odyssey Logistics, a provider of logistics and technology solutions, announced the transition to a unified Odyssey brand. This step is central to the company's strategy of further integrating its diverse offerings across its four core divisions: Intermodal, Transport and Warehouse, Integrated Marine Logistics, and Managed Services.
According to a statement from the Danbury, Connecticut-based company, "This move enables customers to access Odyssey's complete solutions portfolio more transparently, leveraging the company's unique expertise in managing shipments across multiple transport modes and industries, including the transport of metals and chemicals, known for their complex supply chain requirements."
As Odyssey phases out legacy brands and technologies to operate under a unified master brand, customers will experieicne a streamlined experience that makes it easier to harness Odyssey's multi-modal capabilities, leverage advanced technology solutions, and access actionable insights to improve operations, according to the company.
"Many of our customers have yet to experience the full value of the solutions we offer. By uniting acquired brands and core offerings under the singular Odyssey brand, our aim is to simplify and enhance the customer experience, underscoring the strategic value we bring to supply chains," said Hans Stig Moller, CEO of Odyssey. "This transformation enables seamless access to best-in-class capabilities and services, reinforcing resilience and greater transparency for our customers in today's complex logistics landscape."
Odyssey operates LTL, truckload, and logistics services.
Crowley expands commitment to WAA
Jacksonville, Florida-based transportation, logistics, and energy company Crowley has expanded its support for Wreaths Across America (WAA) for the fifth consecutive year.
Crowley is contributing about $70,000 through wreath sponsorships and in-kind transportation services as well as expanding its philanthropic and volunteer support to Alaska and South Florida. By leveraging its logistics capabilities and Crowley Cares community impact program, the company said it plays a crucial role in ensuring thousands of wreaths reach their intended destinations in time for National Wreaths Across America Day on Dec. 16.
Since 2019, Crowley has served as the primary WAA sponsor for Puerto Rico, sponsoring and delivering thousands of wreaths to honor the service of past veterans and their families interred on the island. Since then, the company has continued to expand its service to sponsor and transport wreaths to Philadelphia and Jacksonville.
"Wreaths Across America's purpose resonates deeply with our people and company values. As an employer that recognizes the value of veteran employees and supports warfighter readiness through supply chain services, we are honored to be a part of this incredible initiative for the fifth year in a row," said Shiju Zacharia, senior vice president and general manager of Crowley Government Solutions.
Werner recognized with Military Friendly awards
Werner Enterprises recently earned two prestigious Military Friendly designations for 2024. The company was named No. 3 on the Top 10 Military Friendly Spouse Employer list and No. 5 on the Top 10 Military Friendly Employer list for 2024.
This is the second consecutive year Werner received Top 10 recognition in these categories, with multiple Military Friendly® designations awarded since 2006.
Werner also earned No. 49 on the 2023 Military Times Best for Vets: Employers list. With 230 companies recognized, this honor highlights organizations for their programs and policies supporting veterans' post-military careers. Werner's ranking was the highest trucking company and Nebraska-based company listed.
"We owe our military veterans immense gratitude for the sacrifices they made while serving our country," said Werner's Chairman, President and CEO, Derek Leathers. "It's a priority for us at Werner to honor their commendable service through creating the best opportunities for them as they transition to civilian life and to new careers."
With 18% of its workforce as veterans, Werner offers uniquely designed programs and benefits tailored toward the military community. Some of these initiatives include a Military Skills Test Waiver Program, Skillbridge/Career Skills Program, VA Educational Benefits, Operation Freedom Fleet, 'WEVets' Veteran Resource Group and Deployment Support.
ICYMI
AAA: More Thanksgiving travelers expected on highways this year
New northbound lanes of I-95 in Philadelphia opened to traffic
Seat belt problem leads to recall of over 3,800 Kenworth trucks