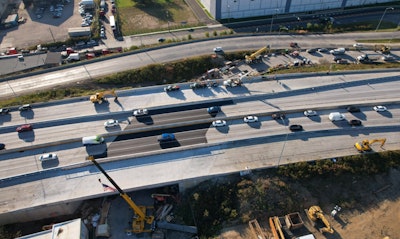 PennDOT
A section of Interstate 95 in northeast Philadelphia rebuilt after a fire last summer reopened to traffic recently.
The interstate bridge over Cottman Avenue was destroyed by a fire caused by the crash of a tanker truck loaded with gasoline. The crash and blaze occurred June 11, causing a portion of the heavily traveled interstate to be closed. The driver of the truck died in the crash.
The state and city responded quickly, filling in the space between the surface street and the interstate with a recycled glass product and paving six temporary lanes in each direction. The damaged portion of I-95 reopened June 23, only 12 days after the accident. It was originally forecast that it would take months to repair.
The northbound lanes reopened Nov. 6. Work continues on building new permanent southbound lanes.
The entire new structure, plus reconstruction of the lower portion of the Cottman Avenue offramp, is expected to be completed and the northbound interchange reopened in 2024.
"Today serves as another example to all that Pennsylvania can do big things," said Pennsylvania Department of Transportation Secretary Mike Carroll at an event marking the opening of the new northbound lanes. "Thanks to the dedication of the workers and continued coordination between the Shapiro Administration, our federal partners, and the City of Philadelphia, traffic continues to flow freely on I-95 and we are one step closer to restoring I-95 to its full capacity."
The recycled glass aggregate being used in the temporary roadway will be reused in other projects along the I-95 corridor, according to a statement from PennDOT.