One Midwest trucking company is working to raise awareness of and money for cancer research, and one of its woman drivers helped lead the effort.
Pam Jordan was among the many employees of Cedar Rapids-based truckload carrier, West Side Transport, Inc., who raised over $30,000 to purchase a 2017 53-foot Wabash trailer to join the fight against cancer. The company pledged a portion of the monthly revenue the trailer generates to be donated to a local cancer charity each year for the life of the trailer, which is typically 12 years.
The pink trailer is decorated with 12 colorful cancer awareness ribbons.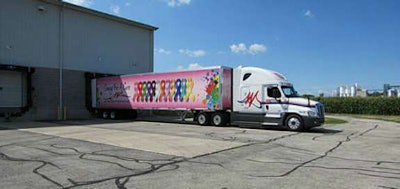 Like others at West Side, Jordan has been effected by the disease that claims 564,800 American lives each year. Even while driving over-the-road and being gone much of the time, Jordan raised thousands of dollars for the project. Part of her efforts was to create a gift basket filled with trucker-specific items and sold raffle tickets for the prize.
"Cancer affects all of us in some way either through your own fight with cancer, a family member, friend or co-worker," said Ron Joseph COO of West Side Transport. "West Side wanted to create awareness while also raising money to fight against this horrible disease."
The "Convoy for a Cure" trailer arrived at West Side Transport earlier this month, and a trailer launch party and celebration was held Tuesday, Aug. 23.
West Side Transport is a dry-van carrier operating a fleet of 550 late model power units and 2,100 dry-van trailers throughout the U.S.