Long about now that diet you started with overwhelming optimism as a New Year's resolution can begin to feel more like being stranded in The Land That Food Forgot.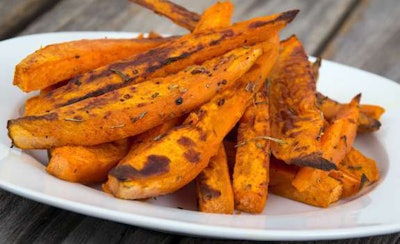 One of the keys to staying on your wellness plan is to keep from feeling deprived, cheated out of some of the tastier foods you used to take for granted … maybe a little too often.
To keep things interesting, try trading out French fries baked sweet potato "fries". They're easy to make, tasty and far better for you than deep fried spuds.
Here is a good recipe from the Anne Food blog that'll help keep you making progress on your wellness plan
SWEET POTATO FRIES
2 sweet potatoes, cut into 1/3-1/2″ wide sticks (of varying lengths)
extra virgin olive oil
paprika
chili powder
garlic granules
sea salt and freshly ground black pepper
Preheat the oven to 450 degrees. Toss sweet potatoes with a splash of olive oil on a baking sheet before spreading a single layer. Dust the potatoes with paprika, chili powder and garlic granules. Toss to coat, and spread into a single layer again. Sprinkle with salt and a few grinds of black pepper.
Place the sheet pan in the top third of the oven and cook for 10-20 minutes, tossing part way through, until beginning to crisp. Remove the pan from the oven and let sit for a minute or two.