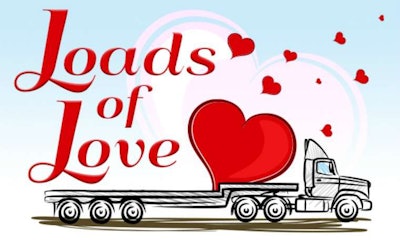 EDITOR'S NOTE: It's Valentine's Day and what better time is there to celebrate the bonds between a man, a woman and a truck. Here's a chance to meet three couples who drive together and make it work.
Lesley and Ken Lightner's love story started over a CB radio. Lesley was driving down the highway in her station wagon, which happened to have a CB radio in it. She'd recently finished trucking school, a bucket list item for her, and had applied to several trucking companies.
When she saw a truck pulled off on the side of the highway that belonged to one of the companies that'd offered her employment, she hopped on her CB radio to ask the driver for an insider's perspective on what the company was like. She couldn't have known at the time, but that driver would one day become her husband, Ken.
"He was a voice on the CB radio," she said.
The two had a great conversation over the radio but eventually had to part ways. Lesley joined the company she'd talked about with Ken, Victory, in September of 1992. She went to Ohio for orientation and looked around for Ken, who was a trainer at the time. A month and a half later, the two finally reconnected.
"I just wanted to meet this person with whom I'd had such a great conversation," Lesley said.
She was separated from her husband and Ken was married, and the timing wasn't right for either of them. So they started as friends.
"Over the course of the next year and a half or so his marriage went in the toilet and I was single and one thing led to another and friendship grew into love," Lesley said.
They moved in together in September of 1994 and started driving team together in late March of 1995. They got married in October of 1996 and have been together since. They drove team for 12 years together before retiring.
After so much experience on the road together, the couple has some advice for other couples considering driving together. Patience, Lesley says, is key.
"You are in such close quarters and it's very difficult to have personal space in the confines of a cab of a truck," Lesley said. "You need to be able to maybe go back in the bunk or read a book or do something to have a little time away from your partner."
Ken said it was great teaming with Lesley over the road and being able to share those experiences together.
"It was nice having someone to share the moments and sights with," Ken said.
To be a successful team, the couple has to really have their hearts in it, he says.
"They have to take it headlong and commit to it, I would say," Ken said.
Getting Along is the Largest Part
Wendy and Roger Lawson talked about possibly driving team together on their very first date. Roger was already an experienced trucker and Wendy was interested in trucking but didn't like the idea of being over the road alone. As their relationship evolved, trucking became one of their long-term goals. The two are now married and started driving team about three years ago after Wendy got her CDL.
The difference in their experience levels has been an interesting dynamic for the two of them. With Roger having driven for 26 years and Wendy having now driven for three, she's been able to learn things a lot faster than she might have if she'd just been a rookie on her own.
"With him being a veteran I get to learn a lot more things from him that I probably would take a really long time to learn on my own, if I ever learned them," Wendy said.
For couples thinking of driving team, Wendy says they need to know they can work together in a small, confined space and still get along.
"Make sure that you can be in the same space together without wanting to beat someone with a chair because you're going to be in the same small space and you can't just walk away," she said.
Roger says couples wanting to drive together have to make sure they can work together that closely.
"You have to get along," Roger said. "That's the largest part."
Seeing Things Together
After Tim and Pearl Butler's children were grown and had moved out, Tim didn't want Pearl staying home alone while he was on the road. Tim is a third generation trucker and Pearl had dreamed about being a trucker since she was a kid because she'd wanted to travel. He encouraged her to join him as a team driver, and Pearl accepted.
This year will mark their 11th year driving together as owner-operators. The have 2016 Kenworth T800 with an extended sleeper.
Pearl says one of the big pros of driving team with your spouse is being able to travel and see things together. Tim had already been driving 19 years before they started teaming, and for him it's been an opportunity to see things as new again through Pearl's eyes.
"It'd kind of been getting a little boring. I've seen this, I've seen that. Seeing it all through her eyes again has really made it a lot more fun for me," Tim said.
With Tim having been a veteran driver when Pearl first got started, she says it was helpful to her to be able to work with a driver who understood her so well.
"If I'd been with somebody of lesser experience, they might not understand what I was trying to say," Pearl said.
Tim says knowing your partner well is crucial to succeeding as team drivers. When they started teaming they'd already been married almost 15 years so they knew each other very well.
"It made it easier to communicate things back and forth. I think if we would've tried doing that right at the start of the time we were married, it would've been a lot tougher because we didn't know each other as well," Tim said.